Some members are struggling posting screenshots so I thought I would write a little explanation of how to do it.
The quickest way to grab a screenshot is to use the
[Prt Sc]
or
[Print Screen]
button on your keyboard (Usually located to the right of the numbers, sometimes located in a bank of six keys if you have a full keyboard, essentially this will take a picture of your entire screen
Unfortunately you have quite a big picture with a lot of stuff you dont need showing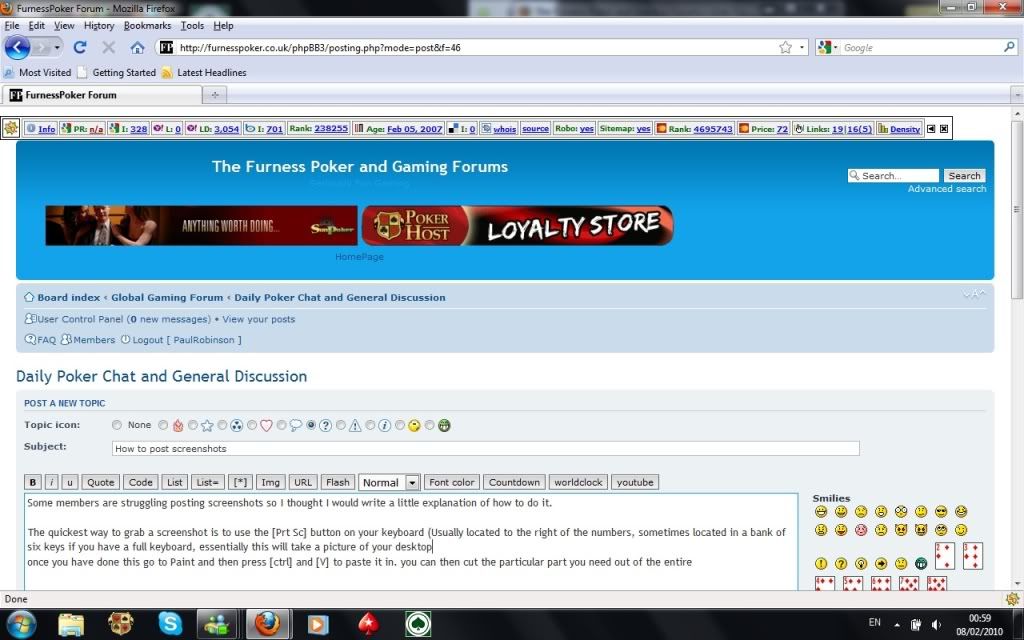 To remove all the unwanted information out of the picture, go to Paint and then press
[ctrl]
and
[V]
to paste it into the paint area. You can then cut the particular part you need out of the full picture using the crop tool, once you have cut your selected piece of photo, open
create a new picture
then once again paste using
[ctrl] and [v]
( you may need to reduce the canvas size at this point) and then save as a jpeg (I usually save this to desktop so its easier for uploading, and just as easy to delete once I know that its safely stored at Photobucket)
Cropped Image

Once you have your picture, get an account at
http://www.photobucket.com
and upload the picture to there, you will see several options below it ,
Email & IM
Direct Link
HTML Code
IMG Code
the one you want to use is the IMG one, copy and paste that url into the post and voila your screenshot is done.
your posted image text will look something like this
Code: Select all

[IMG]http://i242.photobucket.com/albums/ff275/barrowpoker/croppedscreendump.jpg[/IMG]
the [ IMG ] and [ /IMG ] tell the forum that you are wanting to display a photo. You can also use this to link to any images on the web simply by putting in the url between the IMGS
An even simpler way to snapshot screenshots is to use a little program called MWSNAP (just google it) This allows you to choose which area you want to take a picture of, eliminating the need to crop it in paint and its completely free to use. You can also snapshot particular windows (Ie a poker table or lobby)
Photobucket is also a great place to store any photos as well as if you want to include an avatar.
If you need further help please do not hesitate to ask, we are always here if you need us. (except on a mad and crazy APAT weekend
)